Ex Why Zed turns your book, brochure, catalogue or other written material into physical pages that your target audience can handle, read and pass on to others. If you've crafted written material that you want current and future generations of readers to enjoy, you need hardback book printing services that can deliver the quality that your book deserves.
Work With Expert Hardback Book Printing Services
Whether you want to self-publish a factual or fiction book you have written yourself, or you're a business that requires promotional material to show your products or services off to the best effect, we can assist. Book printing is not just about putting pages together. It's a delicate art requiring experience and skill. This is why it's critical to choose the right provider to work with.
A simple online search for such services will throw up a lot of options. But how sure can you be about the quality of the final products you'll be receiving? If you want to make certain that your ideas are going to come to life in the right way, it's critical that you choose the best printing service available to you.
Here are some aspects to consider when selecting the right custom hardcover book printing service for your needs:
The range of products that a publisher offers is a key consideration when you are deciding whether they are the right fit for your book or not. Even if you just want a hardback version of your book printed at the moment, it can pay to establish whether your chosen provider has the capacity to adjust their approach if you later want different formats produced.
If the company has a diverse portfolio of formats and products, that can also give you ideas and help you make decisions about the format and specific printing style you'd like for your own work too.
Here at Ex Why Zed, we have experienced creatives who will work with you to ensure you get the very best, most attractive and professional-looking version of your book. Having worked with some of the biggest brands in the UK and beyond, we're confident we can produce unique, bespoke results that showcase the messages you want to deliver.
And that's the kind of experience you want when you choose someone to partner with when working on printing hardback books. You need people to support you through the printing process who have been working in this field for years. Their skills, knowledge, and experience will be one of the biggest contributors to the way your book turns out.
Remember that your book's success doesn't just depend on the quality of its content. The quality of the book itself matters too. Hardback books printing should be done beautifully and should be able to stand the test of time.
That's why we deliver nothing less than the best print quality in every book we produce. We want you to make an informed decision when you choose the type of paper to use and decide on how you want your book to turn out, so we can even send you paper sample packs, so you know how turning each page will feel. Our aim is that you will be 100% confident that you're not just receiving a high-quality, personalised service, but that you will be receiving a high-quality product as well.
From the moment you send your first enquiry about our services all the way through to the planning, execution, and after sales, we're here to answer every question and guide you every step of the way. We understand how much work you pour into putting your ideas together, so it matters to us how good your final product looks. That's why when it comes to hardback book printing, we are there to support and advise at every stage.
Why Go For Hardback Book Printing?
There may be other ways to present your ideas to the world, but hardback copies will always be one of the best solutions for your creative ideas. Here's why:
The biggest benefit of hardcover books is that they stand the test of time. They are made from durable materials, so these types of books can be passed on from one generation to another.
Paperback books are more prone to tearing, bending and folding, and other types of damage that reduces their lifespan. The content and pages within a hardback book, though, is protected by a rigid cover, and the binding is stronger, meaning it will not fall apart no matter how many times it's read and handled.
Appearance-wise, hardback books give off more of an air of sophistication and class than a paperback or a pdf version of your text.
Hardcover book printing also offers plenty of scope for customisation too. Covers, for example, can be constructed from canvas or cloth, and you can even opt for a paper dust jacket to add another layer of design.
The pages are of high quality as well. The look and feel of crisp pages give readers a more tactile experience that makes your words by far preferable to any form of digital media.
Compared to paperback books, hardback copies age beautifully. They have a long shelf life and don't suffer the same wear and tear that paperback books experience through handling.
Paperback books are more prone to moisture damage. The pages yellow quickly over time, and as readers handle them, the binding gives out far more quickly than a hardback. This is not something you need to worry about with hardbound books.
Let us know what creative ideas you want to put into book form, and let's work on it together. Our project builder will help to put everything together for you in a snap. Whether you're looking to get started on a hardback notebook printing project or have something else in mind, we can handle it for you.
Here at Ex Why Zed, our team believes strongly in creating personal connections. We work with clients through every step of the process because we believe that direct communication is key to bringing your ideas to life. We'll be more than happy to talk you through our quote for your project and whether it fits your needs.
We help you choose the right paper and design, and we even offer you a direct line of contact so you can ask us anything about your project at any stage. We want to make sure that when you receive the final copy, you'll feel that rush that comes with seeing your dream turn into reality.
Call us now on 01206 766647 or email us at hello@exwhyzed.co.uk, and let's talk about your book idea now.
FREQUENTLY ASKED QUESTIONS
Is hardcover the same as a hardback?
A hardcover and hardback are technically the same thing. Both are terms used to refer to books that are bound with protective covers that are more rigid than paperback covers. Hardcover or hardback books often have flexible spines that allow them to lie flat when opened.
What is the point of hardback books?
Hardback books are made with high-quality materials. The construction ensures the book will withstand a greater degree of use, wear and tear than a paperback. Hardback books look and feel more durable and of higher quality than paperbacks. They create a great first impression on target audiences.
How are hardback books bound?
When a hardback book is bound, first, the book's pages are placed together in the correct order. They are then stitched together and glued. The pages are then are positioned within a cardboard-reinforced leather, vinyl or linen hardcover book printing cover. Finally, a dust jacket will be typically put over the binding.
Why are hardbacks more expensive than paperbacks?
Hardbacks are more expensive because of the materials used. A hardback book is made with a heavy, durable cover, which protects the book over the long term. This means that hardcover books don't deteriorate as quickly as paperback books. What's more, the printing and paper quality in a hardback book tends to be better as well.
How can I print a book cheaply?
In order to minimise the cost of printing, you can follow these tips.
Plan your book project using a standard size.
Avoid putting too much colour on pages.
Choose a lighter type of paper.
Opt for the saddle-stitch binding method.
Consider short run hardback book printing.
How long does it take to print a book?
We at Ex Why Zed are able to produce books within five working days of receipt of print-ready artwork. It's worth noting that the design process and getting the artwork ready is the longest part of the project. And, if you are working on a bespoke or complex design, the entire printing process can take longer.
What are hardbound books made of?
Hardbound or hardcover books have solid and rigid covers, preserving their quality longer and better compared to paperback editions. Whether you are looking for hardback photo book printing, printing a factual or fiction book or a promotional hardback, these are made of durable materials, which might include binder's board, thick cloth, buckram, paperboard, or leather.
How much does it cost to hard bind a book?
For hardcover book printing prices, the cost per book can vary depending on various factors, including the type of binding used, the quality of materials used, and the number of books to be printed. At Ex Why Zed, we would be happy to provide you with a more detailed and accurate quote for your specific printing project before you commit.
What is perfect binding in printing?
Perfect binding is a commonly used method for binding softcover or paperback books. With this, the cover and pages are glued together at the spine using sturdy yet elastic thermal glue. The additional three sides of the book are cut as required to give them perfect edges.
Is paperback or hardback better?
It depends on what you think your readers would prefer. A paperback book is an excellent choice for those on a budget, while those looking for durability and high quality tend to opt for a hardback. Choosing both soft and hard bound printing can be a wise choice if you want to appeal to all types of readers.
Self-Publishing In Paperback Or Hardback
Hardback books have greater appeal to critics and aesthetic readers. Choosing hard cover book printing may be expensive compared to paperback printing. However, many readers love the quality of a hardbound book. It's known that some critics prefer hardbacks, so this may be the way to go if you want your book reviewed.
Trade paperback offers good quality at a low price. Trade paperback books are the mid-option between hardbacks and paperbacks when it comes to quality. They have the advantage of quality craftsmanship but are lower priced than a hardback.
Save money using a mass-market paperback. Self-publishing using paperback is the cheapest way to produce books. The quality isn't as high as their hardback and trade paperback counterparts, but many publishing companies use paperbound book printing as a cost-effective way to introduce new authors onto the market.
Reasons Why Hardcover Books Are Published Before Paperback Books
Generally, paperback books are cheaper to print and buy, and easier to transport, than hardcover books. However, despite the convenience they offer, it's often impossible to find a paperback version of the latest book when it's released. This is because it has been a tradition among publishers to use case-bound book printing for new titles and then switch to paperback printing a few months after the initial print.
What's more, publishers earn more money on hardcover or case-bound books, allowing them to recuperate the cost of the author's advance, as well as covering the costs of printing, shipping, distribution, and digital marketing.
Key Benefits Of Professional Printing Services
If you want your printed materials to stand out from the competition, you need a paperback or hardback book printing UK service that can consistently produce quality results. Here are the key benefits of using a professional printing service:
Produces better quality prints. Most professional hardback and paperback book printing services have high-end machines and tools that produce high-quality outputs. Professional printing companies also have greater experience in delivering all types of print designs.
Accommodates more paper sizes. Professional printing services aren't limited to a common size such as A4. They can print a variety of document sizes, ensuring clean and clear cut edges.
Saves time and money. They can print large numbers of documents consistently and efficiently, limiting errors and costs. Moreover, they can also ensure timely delivery.
Options to print on other materials. Most printing companies provide a variety of materials for customised literature, such as short run hardcover book printing in vinyl, foam boards, and coroplast.
If you are looking for the best printing service provider, why not work with Ex Why Zed today? We offer high-quality hardback and softback book printing, photo book printing, section-sewn catalogue printing, and much more.
When it comes to tight deadlines, rush orders, and last-minute printing, Ex Why Zed is here to help.
If you have a project that is being sent to print today, great, let us provide you with a quote for a fast turnaround, high quality solution.
Chat to us on 01206 766647, hello@exwhyzed.co.uk or through the Live Chat box on our website.
We will get your work back to you when you need it at a good price point.
We have all been there…
• Your usual go-to printer has let you down and just cannot do the turnaround or print specification you need.
• You fell for the maxims of a cheap online printer (don't worry you're not the only one 🙂 but the printing they sent is shocking quality and need a quick replacement.
• There is an important business meeting coming up and you just discovered the business cards are running dry.
Going to print today need not be stressful when you turn to us. Our decades of expertise in the printing industry gives us unparalleled experience in providing the best end product, even with a quick turnaround time. Thanks for stopping by and welcome to Ex Why Zed.
We will get your work back to you when you need it at a good price point.
You are in a hurry and need express printing and delivery services? No problem, Ex Why Zed is your express printing UK experts. We are aware of the fast-paced nature of life thus our dedicated creative team always works to provide quick solutions and respond to your needs and demands. We offer express printing and delivery at a price within your budget.
Just give us a call or email or fill the contact form and within a few minutes, our printing experts will be at your service helping you have all your material printed and delivered the same day by our reliable couriers. It is just that simple!
At Ex Why Zed, we use environmentally friendly printing materials and products. If you need just a few copies of your next project, maybe for a student project, design pitch or Companies House submission, we can do that as well. From brochures to postcards, children's books to zines, artist books and catalogues, you can get everything printed today at cost-effective prices.
Get in touch now and let us know the details about your project.
Paper choice is the biggest factor that affects the aesthetic of your publication printing.
Keep reading and we will informatively walk you through our 'house' choices of silk, gloss, uncoated and 100% recycled to show how images and colour reproduction work on each finish.
When it comes to choosing papers for your upcoming print project, we try and give you as much choice as possible. We do our best to pushprint to the next level and not give you a creative roadblock.
Our 'house' papers are a range of curated finishes and weights that we keep on the shelf ready to go when your project goes live. We get great rates from the paper mill on these sheets and that saving is passed on to you so it helps brings down the cost in the printing of a book.
We have uncoated, silk, gloss and Evolution Uncoated. All of them come in a range of thicknesses from 100gsm which is a thin paper up to 350gsm which is a chunky card. (In the uncoated range there is also a 400gsm but this is only for creative business cards). To make your choice super easy, we have listed below a comprehensive guide of 'standard' paper choices for a range of products with an insight into tweaks you can make to increase the quality or to bring the cost down: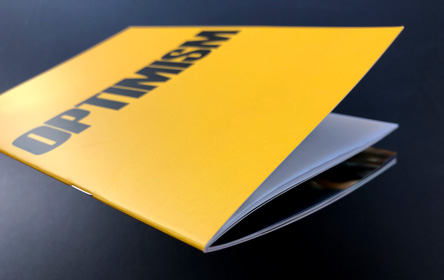 Wire Stitched (also known as Saddle Stitched / Stapled) photography booklet and Zine printing:
Cover onto 300gsm Uncoated.
Matt Lamination to outer.
Inside pages onto 115gsm Uncoated.
• For a less rigid cover choose 250gsm (good for A6 zines) or drop to 200gsm for a far more flexible solution. We don't recommend increasing to a 350gsm cover for a wire stitched zine because it will be very bulky and won't shut. We always recommend laminating the cover which prevents the ink cracking when folded.
• For the inside pages drop to 100gsm for super thin, almost photocopier like weight. Or you can increase to 150gsm and 170gsm for a premium substantial page when the reader flicks through.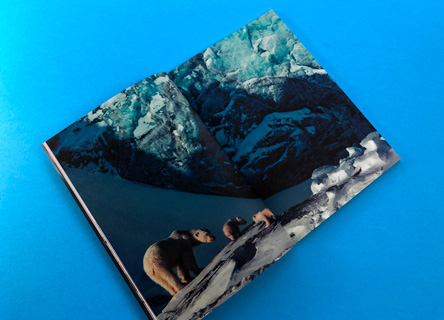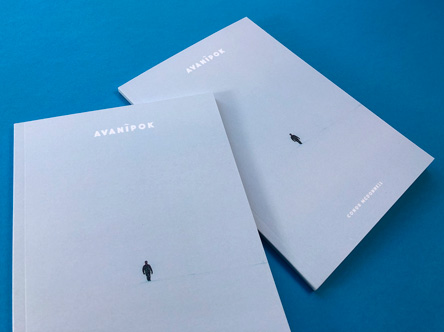 Perfect Bound (glued, square spine) photography book and zine printing:
Cover onto 300gsm Uncoated.
Matt Lamination to outer.
Inside pages onto 115gsm Uncoated.
• For a more premium cover you could increase to choose 350gsm on an A4 book. This is rigid though and best avoided on A5 or A6 books. Honestly, 300gsm is more than plenty in most cases. Again, to prevent the ink cracking on your cover fold, choose a matt, gloss or soft-touch lamination.
• Drop to 100gsm for easy to turn inside pages. If you have a lot of ink coverage on one or both sides then do expect it to show through a bit. For a high-end upgrade, you can increase to 150gsm and 170gsm.
Our house uncoated is a bright white finish, it's got no shine. It does lend itself well to colour reproduction when compared against our Evolution Uncoated which is off-white with a slight grain. Evolution is 100% Recycled but we will be honest, this paper really soaks up the ink. If you have dark images or photography lacking contract then it is going to be reduce the punch of your images when compared with how they appear on screen. The 'pro' for this paper though, is that it is recycled so that's the trade off you need to consider.
Silk is a good, middle ground paper to ensure precision print. It's smooth, bright white surface helps your colours jump off the page with a slight sheen and coating. Silk comes in a good range of weights with 130gsm being the standard choice for inside pages and 300gsm for the cover.
Next up is gloss. It has a coating and a lot of shine. Gloss publications do look impressive and striking but it is more immediate visually and too shiny for some designers and solutions. What we mean by this, is that uncoated is more subtle.
If you want to keep your costs down, then stick with one of 'house' papers. However, if you want to go for a more premium, high end choice then GF Smith is your go-to paper mill. Their representatives do visit Universities, student groups and art colleges to promote their papers and feature in the Print Week News so you may well have seen these. They are more expensive than our selection but they have a range of more than 200 choices - everything from craft papers (Nomad Omar and Buff), coloured sheets (Colorplan) and even paper made from actual beer! (Gmund Bier). We don't hold their samples in house but if you get in touch with them on samples@gfsmith.com they're super fast at sending them out. Or you can jump on their website.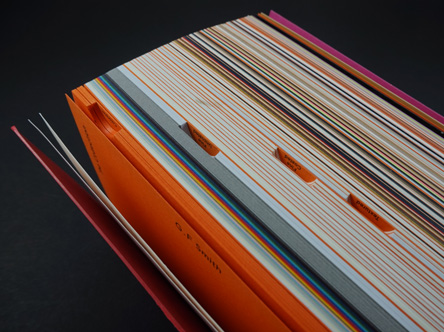 There are images of our papers on our website here. We have done our absolute best to make one white paper look different to another white paper. But if there is any doubt then get in touch and we'll send you out a paper sample pack. It will be with you the next day so it saves you trying to find a local printers nearby or an alternative London printing studio, right! They are all digitally printed with an Ex Why Zed alphabet (see what we did there 🙂 on one side, so ideal for graphic design artists to see how colours may vary print on the different textures and weights. And boom!, on the other side you have 15 free New York based typographic and landscape photography postcards so get the blue tack out, stick them on your wall and it will make a nice montage. We're keen for you to see exactly what the papers look and feel like before you go ahead with your order so there are no surprises when the printing arrives.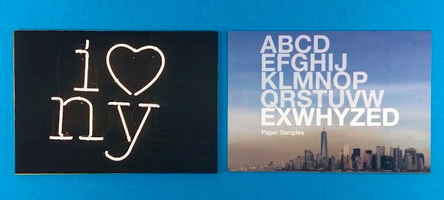 We showcase a recent hardback, photobook print project to give you ideas and inspiration on what can be achieved with printing.
'In Bohemia' from Willem Jaspert is a brilliant example of a hard back photography book printing. Check out the front cover and look at the typography!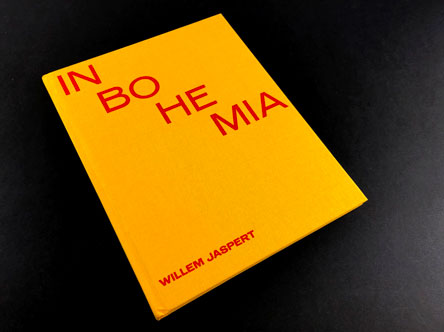 It's a kitchen sink job this one, everything has been added to it. We have red foiling over the yellow material cover. We buy all of our hardback cover materials from Winter&Company and this is 'Dunkengelb' from their Wicotex range. Red foiled allowed over the top soaks in and gives a slight deboss. We have the name of the publication and the author down the spine. Foiling is a way of finishing printing with an elegant appearance.
It is a bespoke book page size at 253x210mm. This means the important biddles on this book are a width of A4 with a few centimetres trimmed off the height to create a more unique, bespoke size.
When you open the cover, you are presented with this double factor of Colorplan Vermillion endpapers. The brilliant thing about using Colorplan for your endpapers is the entire sheet is that colour including the edges. You don't end up with a white edge to the paper which you do if you were to print white on one of our 'house' papers. It can really push print to the next level.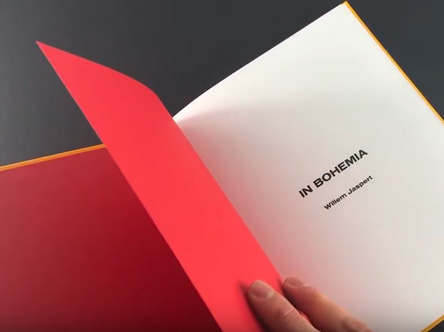 There are 50 colours to choose from within the GF Smith Colourplan range. Let us know which you will work for your project and we can buy them in.
The endpaper is a wider double page spread which folds in half. The left hand half is glued to the inside of the hardback cover cover and the right hand side forms the fly sheet.
The text pages here are onto 150gsm silk. This is a classic photography zine with a wide range of visually exciting image making. Bohemian photography from Willem and a potential award winning book and something itsnicethat, Creative Review and the Digital Printer Awards should enjoy.
The whole book is digitally printed on our HP Indigo press to give a pure print, life-like appearance to the images. The reproduction is crisp on the choice of silk pages. Remember, Ex Why Zed are litho printers to for the ultimate print quality on longer print runs of the 700 copies or more.
An extremely well styled and well presented coffee table publication and a great example of how to self publish a book.
A deep dive into hardback book binding at Ex Why Zed and the mechanics of a case bound book, the end papers accompanied by technical tips to look out for when you prepare your artwork.
Let us get started with a quick comparison between a case bound book and a perfect bound soft-back book.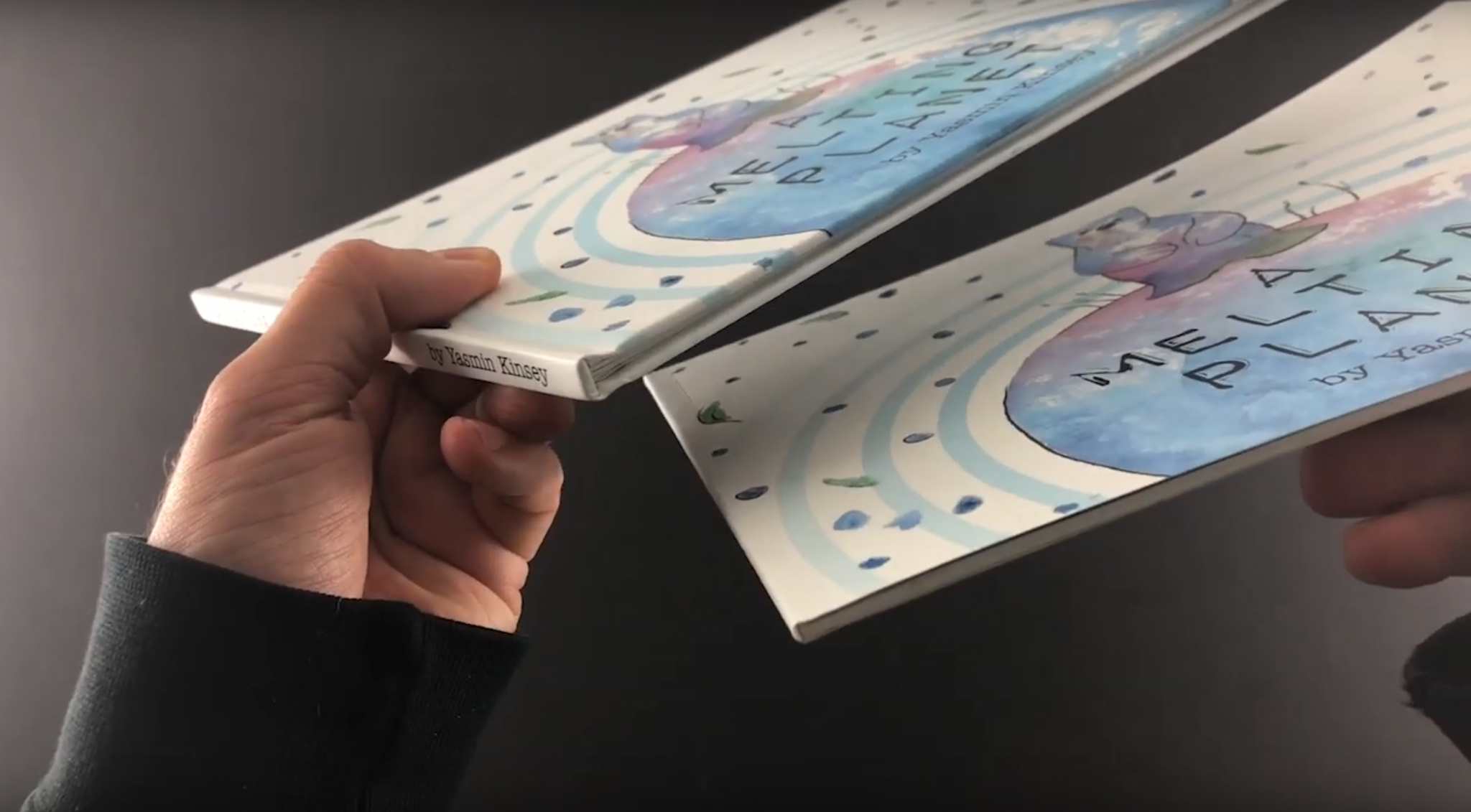 The two books above are precision print from exactly the same artwork however, one is case-bound hardback and the other soft back, perfect bound. You'll see the hardback is slightly larger because the cover on the hardback overhangs by 3mm on each side. The inside pages on the perfect bound book sit neat and flush to the top, outer and bottom edge whereas on the case bound, the cover overhangs which makes it slightly bigger. Both the inside pages are glued along the left-hand edge. The hardback solution is definitely a more resilient and substantial book which can, in turn, be sold for a higher price through your online shop, in a Kickstarter campaign or on Amazon. Visually impressive publications we have printed often receive widespread praise on creative design websites like itsnicethat, Creative Boom and Creative Review.
For this blog post, we will just concentrate on the definition of case-bound print and the process of hard back book print from pdf. If we take a look at this image, below, of a flat cover you can see there are three sections of 2.5 mm grey board that make up the hard back cover.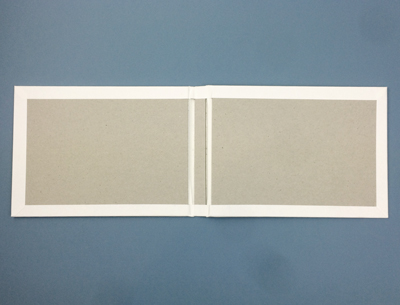 So for the actual book cover making, there is one greyboard for the front cover, one through the centre for the spine and one for the back cover. These are all 2.5mm and these form the chunky cover that we see ultimately on the final self-published book. Over the top of this raw case, we then wrap the cover material whether this be a printed sheet or a specialist book binding material. You can see on the image below that it continues 17mm beyond the outer cover and tucks around to the inside covers. So all of this 17mm area is glued to the inside of the cover along the top, bottom and the two sides.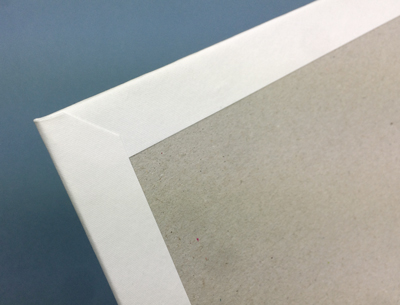 So this extensive of the cover page size is what sticks the cover to the hard back case. We call it a 'case' and that is where the the term 'casebound' or 'case-bound' originates.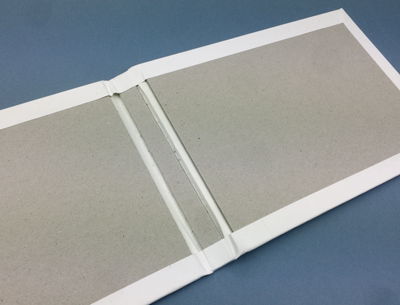 This 17mm section needs to have the graphics on there if you have a background colour. That is because this is partially visible around the edge when you view the inside covers. It can either be a pureprint colour or if you choose a book binding material for the cover then it would be the colour of the material that is visible. On the example below, you can just about see 3mm of the cover graphic around three of the edges of the cover.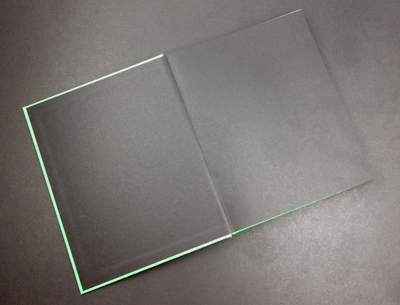 So, if your graphic designer has added a full colour image on the front and the back cover you might want to continue that image onto the inside on this extra 17mm and then when it's tucked inside of the hard back case, the image continues there on the 17mm that is partially covered.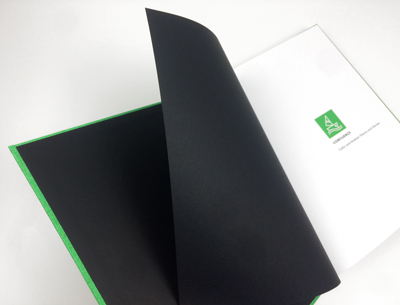 The majority of the 17mm overhang is covered by the end papers. On the image above, you can see an example of the endpapers and fly sheet. The endpaper is the first double page spread when you open the cover. It is a continuous sheet of paper, twice the width of the text block. So it's glued on the left-hand side to the inside of front cover and then the right hand side then forms the first leaf of the book - we call this the 'fly sheet'. Turning the fly sheet over, there is the reverse and THEN on the right hand side is your first page of actual content. However, you can definitely supply content for all three of these endpaper/flysheet panels. A solid colour or a pattern always looks impressive. Looking at a book from the side profile, you can see the mechanics more clearly.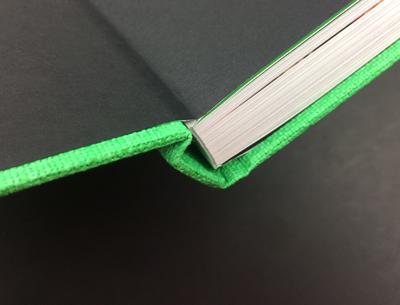 So, the end paper is glued to the inside front cover and that is what keeps the text block within the case bound cover itself. The text block is glued with resilient PUR glue along the left-hand edge. If you do have a larger budget then there is an option for us to fold the inside pages into sections and then glue in sections or thread sewn the left-hand edge. That is more of an expensive process which doubles the binding costs because it still tends to be completely by old-school bookbinders and is very retro. It does look impressive though and makes the binding really tough. Our PUR glue is tough in itself and is definitely the cost saving option.
If you are going to print content on them, you would supply us with two double page spreads: one for the double page spread which is the immediate first spread when you open the cover and one for the next spread, half of which is glued to the inside cover. So there is potential to provide three pages of content you can provide artwork for left, right and then left. The same is repeated at the back of the book - two double page spreads with three 'panels' of content that can be supplied: right, left and right.
Potentially, we can go for Colorplan paper for the end papers too. This gives you the option of choosing one of GF Smith's 50 colour choices as a more premium solution than simply printing a colour. Colours may vary when printed from how they look on screen whereas a Colorplan paper ensures a smooth overall colour.
Final technical point to ensure precision print...because the endpapers are glued to the first text page you will lose 5mm of the first text page. It is completely obscured because of the glued area. Therefore, you want to keep any content a good 10-15mm away from spine side of that first text page and again, on the last text page to ensure that the reader doesn't have to really force flat the page to see any information. For pure print, white space tends to be king as graphic design artists know and 20mm might even be a better plan.
For the inside pages, we need an absolute bare minimum of 28 inside pages. 28 is really thin 32-36 or 40 would be better. Children's book authors can struggle to get to 32 but 28 is the absolute absolute minimum. (For under 28 pages we recommend a saddle stitched booklet). 28 pages is just about thick enough for us to glue and bind. Any less and there is just not enough surface area to get the PUR glue down so 28 pages will give you a 3mm thickness on the text block but ideally 32, 36 or 40 would be brilliant if you can get your graphic designer's creative cogs whirring and generate the extra pages. We can then go ahead and push print on to our litho or digital printing machines.
To enjoy our full definitive guide on printing a hardback book, click here:
We guide you through the creative possibilities for designing, styling and printing your children's book at Ex Why Zed
There are loads of sizes that you can choose when you come to the printing of a book. We try not to restrict you in any way apart from what the physical impossibilities are for our presses, digital printing, litho print and binding equipment. So our ethos at Ex Why Zed is "The answer is yes, now what is the question?".
A5 is a medium, compact size for a children's book. The A5 dimensions in centimetres are 21x14.8. The page size is plenty large enough for you content to be legible and this is a cost-effective size for precision print. You could make the publication more unique by shaving a couple of centimetres off the height to make it 180mm high and 148mm wide which they have done here on Tales of Great Cities London. This is a superb example of infographic printing enabling youngsters to learn and expand their knowledge through reading.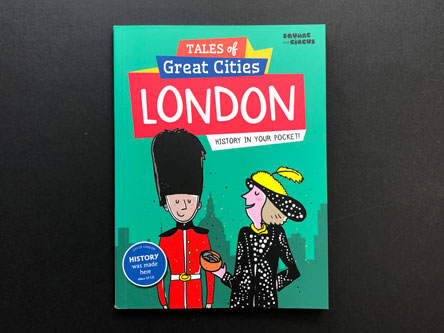 Your graphic design artist might come up with a bespoke size and we don't charge extra for these so if you did want to go for something off-kilter that is fine and it will be quoted at the same price as the next A size up. So for example, 180x148mm is the same price as A5 (210x148mm) and 270x190mm is the same price as A4 (297x210mm).
Square sizes work really well for self publishing a book because you get a really nice, wide double-page spread. The orientation and layout work really well for portrait and landscape images.
Pouch's Magical Worry Cheeks, shown below, is 210x210mm. Gloss Lamination on the front cover and uncoated inside pages make for a nice contrast - the bright colours on the front cover and the more tactile feel of the interior.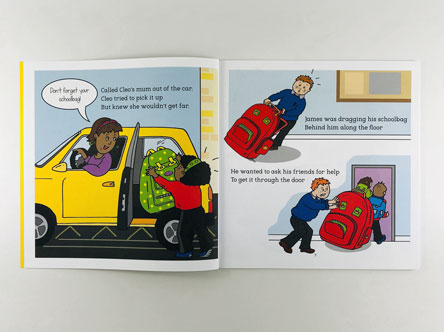 Rodney Matthews book is a reprint of a book first published in the late 70s (You can still buy a copy of the original on Amazon). They have gone for an imposing 240x240mm square size in hardback. This gives you a huge double-page spread of 480x240mm. We can even go as large as 295x295mm on square hardback and soft back, perfect bound or wire stitched children's book. These options create a super impressive finished book.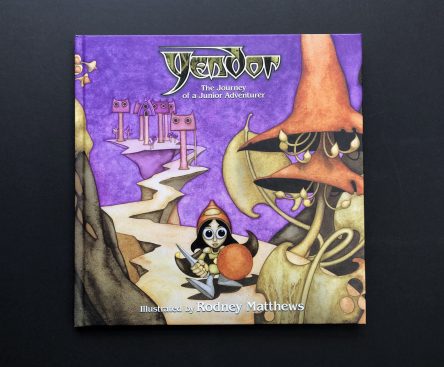 For a landscape book, you can go for any size from A5 up to and including A4. You can again, opt for a bespoke size. Taking a little bit off the height or width makes it more eye-catching for the reader and visually stimulating rather than the standard A size. A wire stitched kids book means the pages can be opened completely flat so you get the full benefit of the double-page spread for your spectacular illustrations and storytelling. On perfect bound storybooks, you do lose 2-3mm in the spine gutter so it is not possible to press the pages completely flat but this is the go-to and professional looking method of binding for 40 pages or more.
There is slightly more scope on a portrait layout book. You can choose any book page size from A6 (148x105mm) right up to A3 (420mm high x 297mm wide). However, there is a definite price point cut off when you reach A4. Anything larger than that, unto and including A3 has to be printed onto our B2 HP Indigo or B2 litho press which both has higher setup costs. In turn, though, your storybook will be a hugely impressive size and can be sold for a higher cover price…although the parents might need big muscles to lift it at bedtime!
A6 is nice neat postcard size, postcard size publication that fits in your pocket. This can be sold for a lower cover price so might make for an instinctive purchase for potential readers at art fairs, in gift shops or when visiting your online store. A4 itself gives you the full impact of a wide A3 spread.
We either print your work in black ink throughout or in full colour where we use (four colour) CMYK inks to make up the millions of possible colours within the gamut. Full colour is going to give you far more impact for your images so they jump out at the reader. Black ink printing is cheaper because we are only using one 'colour'. One example where you might want to print in black ink is for a colouring book. Colouring books are an increasingly simple way of illustrators getting their already completed artwork out there and bringing in some more money.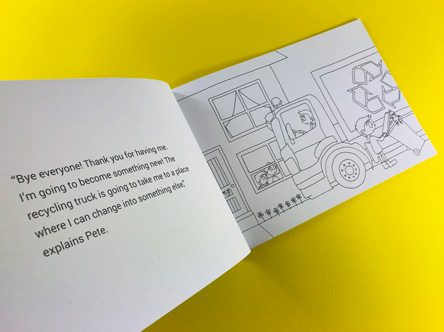 Here in 'Oi Who Are You Calling Rubbish' we have a full colour cover with matt lamination to give the books more longevity and black print on uncoated pages inside. Black line art which the children can spend time lovingly colouring in.
Paper does prefer to be laid flat and when you start folding paper in half to get the cover of your book, it will immediately start to crack. When it's flat it is perfect, but when folded the fibres of the paper crack and this produces a white line and scuffed ink along the fold. The paper roughens up and it doesn't look great. So, we recommend laminating the front cover of books to prevent this happened. This lamination acts as a protective film over the front cover to stop it cracking meaning it arrives in pristine condition for the reader. You can choose from matt, gloss, anti-scuff or soft-touch. Gloss lamination gives your colours real punch and vibrancy. Matt lamination is slightly more subdued with a smooth and professional-looking surface. Anti-scuff is used very rarely. Soft-Touch is probably more suited to corporate brochures with a velvet feel than it is to children's books. We would suggest you go for matt or gloss on your new book.
Print finishes are the extra flourishes and premium extras you can add to the book cover making it really stand out. We offer a number of these and printing with gold foil isn't the limit anymore - foiling comes in a range of up to 200 colours. You could also consider gloss spot UV varnish to a logo, title or vector illustration. How about an emboss or deboss on the book title so it jumps towards the reader?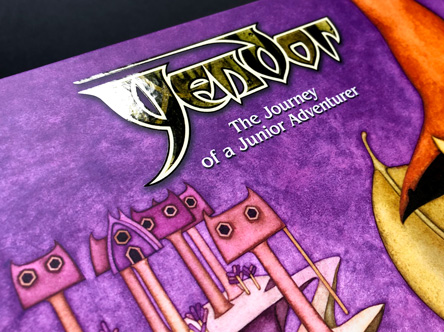 Once the design is completed and you are ready to print get in touch with us and we'll come back to you asap with a range of print quotes. You might not be a printing expert yet, but we will change that with our advice, setup guides and inspirational portfolio. Your artwork would look great on paper and the printing of a book journey is both full of learning and ultimately exciting at Ex Why Zed. Pdf to book printing is what we are print experts at, aiming to give you a pure print reproduction of your artwork. We offer digital printing for small runs and we are also litho printers for run lengths of 700 copies or more where that method becomes more friendly on your budget.
Thank you for taking the time to read this blog post. If you have any questions do get in touch on hello@exwhyzed.co.uk or call on 01206 76667 and we look forward to helping you transform your ideas into print!
To watch our full action packed, hour long guide on Children's Book printing then here is the magical link you will need:
It is 2021 and the good news is that it has never been easier to self publish a book.
You are a creative genius and have been working on a photography magazine printing, an illustrated comic / graphic novel or an impressive coffee table publication. You have done the hard part and come up with a concept and the artwork for your magazine, children's book or creative publication and now is the time to consider self-publishing a book.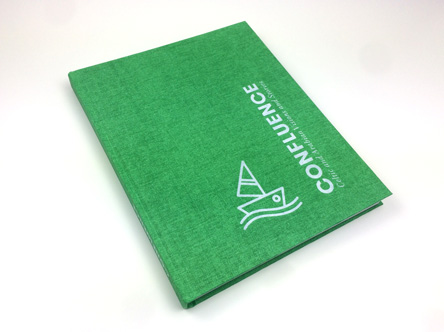 Our aim of this blog is to dive deep into the process and talk through ideas on how to self publish a book. There are a number of routes and one we like best is to launch your project on Kickstarter, indiegogo or another crowdfunding website (There is an informative list of other options here: https://www.floship.com/kickstarter-alternatives-you-should-know-about/ ). All are a brilliant way to test the water, gauge the response to your idea and you can get your project fully funded before you go to print. I'll repeat that again, once the project is finished, if it has been successful then the crowdfunding website release the funds from your backers and you will have the money in place to pay Ex Why Zed for the printing without any financial risk. It is just a great way to go about it. There are so many advantages and it saves paying a publisher 40-50% of your earnings when in reality you don't actually need them to gain the exposure anymore - the worldwide market is your oyster! Maybe you are a children's book illustrator working with an author, between yourselves you can keep ownership of the project, maintain a much better grasp over the finances and control much money is available to pay yourselves rather than having your terms dictated by a third party.
On Kickstarter, you create a video showcasing yourselves and the fun challenges you have had designing your project. (After the lockdown in 2020 we were well up to speed with filming ourselves and creating videos on Zoom so this is much less daunting than it might have been even a few months back.) You also provide an accompanying written oversight into the book and your processes to really sell it to the potential audience.
We have customers who aimed to make £2500 on Kickstarter and ended up securing over £25k! That is a serious amount of money and definitely justification for in depth consideration. Here are links for a couple of examples to get a feel for the kind of content which works and creates a winning campaign:
https://www.kickstarter.com/projects/mattdixon/transmissions-4-robot-art-book-by-matt-dixon
https://www.kickstarter.com/projects/yasminkinsey/a-melting-planet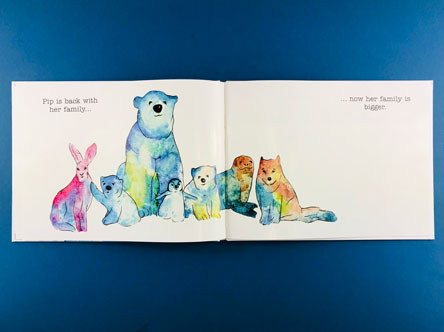 https://www.kickstarter.com/projects/181965551/no-hands-2-a-2018-world-cup-book
https://www.kickstarter.com/projects/2055916793/england-fans-in-russia-world-cup-photography-book/community
https://www.kickstarter.com/projects/collettejellis/collette-j-ellis-sketch-art-book
Children's book, hardback art books and football art books seemingly do particularly well on this platform. Following the conclusion of your campaign you will know exactly how many books to print for your backers and can print a few more copies in addition, which can be sold the books through your own website, on Etsy, or on Amazon to reach a wide audience. When selling a book on Amazon and Etsy will take a percentage though so check this first. The advantage you have on listing your self published books on those platforms is the sheer size of their website traffic. I mean, taking 50% profit from the sales of 500 books through Amazon is better than taking 100% of the sales of 10 books through your own website right? Admittedly, their percentage might be high so this is something to research and mull over.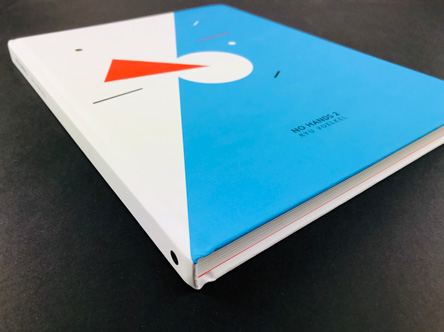 For a comparison, the time honoured route to print would be aspiring authors who have written a book and then get in touch with an illustrator to illustrate said book in order to pitch it to publishers - is one of the most common requests book illustrators get! The illustration process, as you may well have already found out can take months. On culmination, the approach to a publisher and waiting for a decision can take a year! Yes a year - they are super busy people. After the excitement of finishing the book, a wait that long really does pop the creative balloon.
So, the standard protocol in traditional publishing (with an established publisher, not self-published) is the writer would submit the manuscript without illustrations, and then the publisher would pair them with an illustrator of their choosing. They will have a bank of trusted partners on their books who they will assess and allocate based on the subject matter and intended illustrative style. The writer is more than welcome to make suggestions too for the book deal once it is acquired, but usually the writer has no say in the matter.
It's a common misconception that authors need an illustrator in order to 'sell' their book to a publisher, as they think it will improve their pitch. But this is not the case, and the publisher will want to make this pairing decision themselves.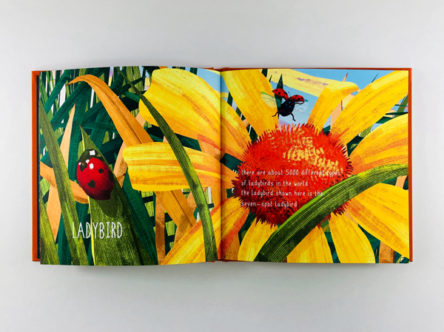 To give you a wealth of ideas and inspiration on what can be achieved with digital printing and litho printing at Ex Why Zed do spend a few minutes looking through our Portfolio section. It is packed with examples of recent work very similar to yours.
Here are a few links of recent digital printing and litho printed children's books:
https://www.exwhyzed.co.uk/portfolio/duffy-sea-turtle-childrens-books/
https://www.exwhyzed.co.uk/portfolio/melting-planet-yasmin-kinsey-hardback-childrens-book/
https://www.exwhyzed.co.uk/portfolio/pouchs-magical-worry-cheeks/
https://www.exwhyzed.co.uk/portfolio/grumpy-hamster-sojo-mouse/
Here are some recent hardback books or coffee table art books:
https://www.exwhyzed.co.uk/portfolio/spectre-james-bond-film-premiere-photobook-sam-peat/
https://www.exwhyzed.co.uk/portfolio/no-hands-ryu-voelkel/
https://www.exwhyzed.co.uk/portfolio/primitive-british-goat-jack-mifflin/
https://www.exwhyzed.co.uk/portfolio/journey-teddy-marla-godsteeth/
https://www.exwhyzed.co.uk/portfolio/vessel-craww-shaun-friend/
And recent examples of printed magazines, paper back zines and photography books showcasing both litho print and digital printing:
https://www.exwhyzed.co.uk/portfolio/young-zine-issues-17-18/
https://www.exwhyzed.co.uk/portfolio/vevo-dscvr-ones-watch-magazines/
https://www.exwhyzed.co.uk/portfolio/adam-slama-strive-challenge-photo-books/
https://www.exwhyzed.co.uk/portfolio/derek-bremner-i-tourist-toronto/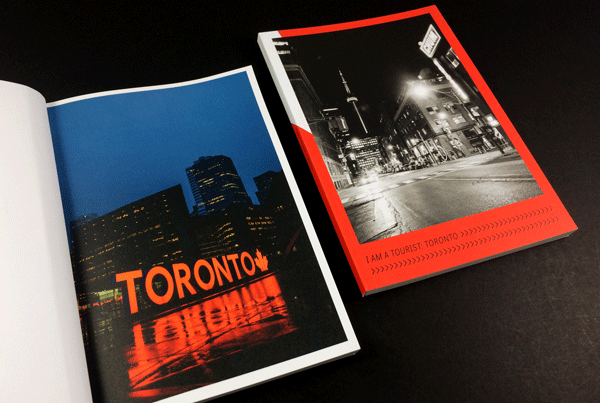 Once your book is complete and released, the real top calibre publications will be featured on itsnicethat, Creative Review and Creative Boom. These are all exceptional outlets showcasing and promoting the best talent and to be included within the reviews and blog posts is the pinnacle of ambition. Back in the day, when we studied graphic design at University they were out bible and provided a daily source of inspiration.
You might be looking into the cost of printing a book or maybe it is all designed and now you are ready to print. Get in touch with us and we'll come back to you asap with a range of print quotes and an extensive set of guides to help you along the way in your print journey. You might not be a printing expert yet, but we will change that with our advice, setup guides and inspirational portfolio.
Brilliantly, we don't even charge for delivery so don't worry about finding a local printers near you, the finished books will arrive the day after they leave us. We deliver throughout the UK but regularly send self published books to the USA as well. The world is no barrier anymore so if you are self-publishing in the UK in Manchester or you are in the Biddles community of southeastern Powder River County, Montana, United States we can deliver a finished print project to your door.
In view of all this information, we believe it only strengthens the case of self publishing and keeping control of the design process and the timeline. Your artwork would look great on paper and the printing of a book journey is both full of learning and ultimately exciting at Ex Why Zed.
Thank you for taking the time to read this blog post. If you have any questions do get in touch on hello@exwhyzed.co.uk or call on 01206 76667 and we look forward to helping you transform your ideas into print!
We take you through the considerations that affect how much it costs to print your zine at Ex Why Zed and how to make it commercially viable.
We don't advertise our prices online because we prefer to start a conversation with you first to find out more about the project. Yes, there are plenty of print companies where you can get an instant price, but having worked so hard for days, weeks and months on your zine do you really now want to just upload the files to a website and keep your fingers crossed that what arrives is what you imagined?
From the first point of contact with Ex Why Zed we give you a wealth of helpful, expert advice on how to prepare artwork for print. We take a lot of pride in how responsive and patient our team are. Do read our trust pilot reviews and you will see this is really appreciated by our customers.
Bottom line, we would rather you printed with its than didn't. Remember our mantra: we want to help transform your ideas into print. If we send you a quote and someone else is £20 cheaper then do let us know. We're not naive enough to think we'll be the cheapest quote on every print run. Honestly, in the whole of the world, there is always someone cheaper in every industry. I'm sure you've bought a coffee today that you could have bought cheaper within 100 yards of that cafe but you like the service and ambience of that particulate place so that's why you went there, right?
Why not let us reverse engineer the price? If might have seen similar zines to yours selling for £8 and you would like to pay £3 from us to print each copy. So let us know the spec of your zine, for example, it might be A5 with 40 pages then we can let you know how many copies you will need to print to achieve the £3 per copy target price. Easy!
We want to get across that when you print a zine with Ex Why Zed, the answer is "Yes", now what is the question.
Can you print bespoke sizes? Yes!
Can you send me a sample pack to help choose my papers? Yes!
Is printing black, cheaper than full colour? Yes!
Do you ship to the States? Yes!
Can you print one copy as a test before we go ahead with the final print run? Yes!
Can you print me 38 copies because on your website it only says 50. Yes we can and we're going to go full on Greta Thunberg with this. If you only need 38 we'll print you 38 to save some paper. If you need 111 we can print that as well.
Is printing and binding my zine at Ex Why Zed easier than it is on the college photocopier? Yes, but you knew that already right.
Hello, thanks for stopping by our print blog.
Do check back here for in depth advice, help and ideas for your next project.
Our first blog is coming soon!