Size, layout and paper choices for Children's Book printing
We guide you through the creative possibilities for designing, styling and printing your children's book at Ex Why Zed
There are loads of sizes that you can choose when you come to the printing of a book. We try not to restrict you in any way apart from what the physical impossibilities are for our presses, digital printing, litho print and binding equipment. So our ethos at Ex Why Zed is "The answer is yes, now what is the question?".
A5 is a medium, compact size for a children's book. The A5 dimensions in centimetres are 21x14.8. The page size is plenty large enough for you content to be legible and this is a cost-effective size for precision print. You could make the publication more unique by shaving a couple of centimetres off the height to make it 180mm high and 148mm wide which they have done here on Tales of Great Cities London. This is a superb example of infographic printing enabling youngsters to learn and expand their knowledge through reading.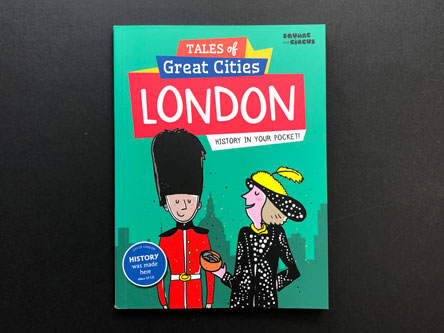 Your graphic design artist might come up with a bespoke size and we don't charge extra for these so if you did want to go for something off-kilter that is fine and it will be quoted at the same price as the next A size up. So for example, 180x148mm is the same price as A5 (210x148mm) and 270x190mm is the same price as A4 (297x210mm).
Square sizes work really well for self publishing a book because you get a really nice, wide double-page spread. The orientation and layout work really well for portrait and landscape images.
Pouch's Magical Worry Cheeks, shown below, is 210x210mm. Gloss Lamination on the front cover and uncoated inside pages make for a nice contrast - the bright colours on the front cover and the more tactile feel of the interior.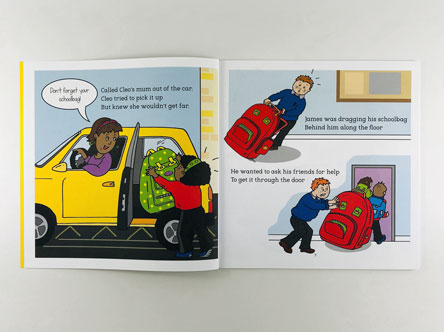 Rodney Matthews book is a reprint of a book first published in the late 70s (You can still buy a copy of the original on Amazon). They have gone for an imposing 240x240mm square size in hardback. This gives you a huge double-page spread of 480x240mm. We can even go as large as 295x295mm on square hardback and soft back, perfect bound or wire stitched children's book. These options create a super impressive finished book.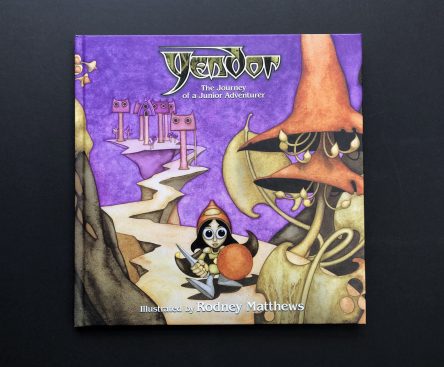 For a landscape book, you can go for any size from A5 up to and including A4. You can again, opt for a bespoke size. Taking a little bit off the height or width makes it more eye-catching for the reader and visually stimulating rather than the standard A size. A wire stitched kids book means the pages can be opened completely flat so you get the full benefit of the double-page spread for your spectacular illustrations and storytelling. On perfect bound storybooks, you do lose 2-3mm in the spine gutter so it is not possible to press the pages completely flat but this is the go-to and professional looking method of binding for 40 pages or more.
There is slightly more scope on a portrait layout book. You can choose any book page size from A6 (148x105mm) right up to A3 (420mm high x 297mm wide). However, there is a definite price point cut off when you reach A4. Anything larger than that, unto and including A3 has to be printed onto our B2 HP Indigo or B2 litho press which both has higher setup costs. In turn, though, your storybook will be a hugely impressive size and can be sold for a higher cover price…although the parents might need big muscles to lift it at bedtime!
A6 is nice neat postcard size, postcard size publication that fits in your pocket. This can be sold for a lower cover price so might make for an instinctive purchase for potential readers at art fairs, in gift shops or when visiting your online store. A4 itself gives you the full impact of a wide A3 spread.
We either print your work in black ink throughout or in full colour where we use (four colour) CMYK inks to make up the millions of possible colours within the gamut. Full colour is going to give you far more impact for your images so they jump out at the reader. Black ink printing is cheaper because we are only using one 'colour'. One example where you might want to print in black ink is for a colouring book. Colouring books are an increasingly simple way of illustrators getting their already completed artwork out there and bringing in some more money.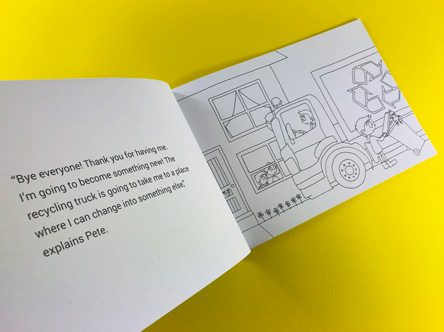 Here in 'Oi Who Are You Calling Rubbish' we have a full colour cover with matt lamination to give the books more longevity and black print on uncoated pages inside. Black line art which the children can spend time lovingly colouring in.
Paper does prefer to be laid flat and when you start folding paper in half to get the cover of your book, it will immediately start to crack. When it's flat it is perfect, but when folded the fibres of the paper crack and this produces a white line and scuffed ink along the fold. The paper roughens up and it doesn't look great. So, we recommend laminating the front cover of books to prevent this happened. This lamination acts as a protective film over the front cover to stop it cracking meaning it arrives in pristine condition for the reader. You can choose from matt, gloss, anti-scuff or soft-touch. Gloss lamination gives your colours real punch and vibrancy. Matt lamination is slightly more subdued with a smooth and professional-looking surface. Anti-scuff is used very rarely. Soft-Touch is probably more suited to corporate brochures with a velvet feel than it is to children's books. We would suggest you go for matt or gloss on your new book.
Print finishes are the extra flourishes and premium extras you can add to the book cover making it really stand out. We offer a number of these and printing with gold foil isn't the limit anymore - foiling comes in a range of up to 200 colours. You could also consider gloss spot UV varnish to a logo, title or vector illustration. How about an emboss or deboss on the book title so it jumps towards the reader?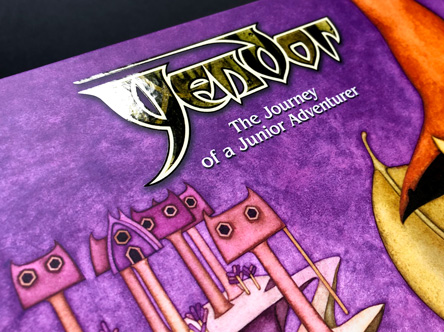 Once the design is completed and you are ready to print get in touch with us and we'll come back to you asap with a range of print quotes. You might not be a printing expert yet, but we will change that with our advice, setup guides and inspirational portfolio. Your artwork would look great on paper and the printing of a book journey is both full of learning and ultimately exciting at Ex Why Zed. Pdf to book printing is what we are print experts at, aiming to give you a pure print reproduction of your artwork. We offer digital printing for small runs and we are also litho printers for run lengths of 700 copies or more where that method becomes more friendly on your budget.
Thank you for taking the time to read this blog post. If you have any questions do get in touch on hello@exwhyzed.co.uk or call on 01206 76667 and we look forward to helping you transform your ideas into print!
To watch our full action packed, hour long guide on Children's Book printing then here is the magical link you will need: